Try Our 9 Tea Sampler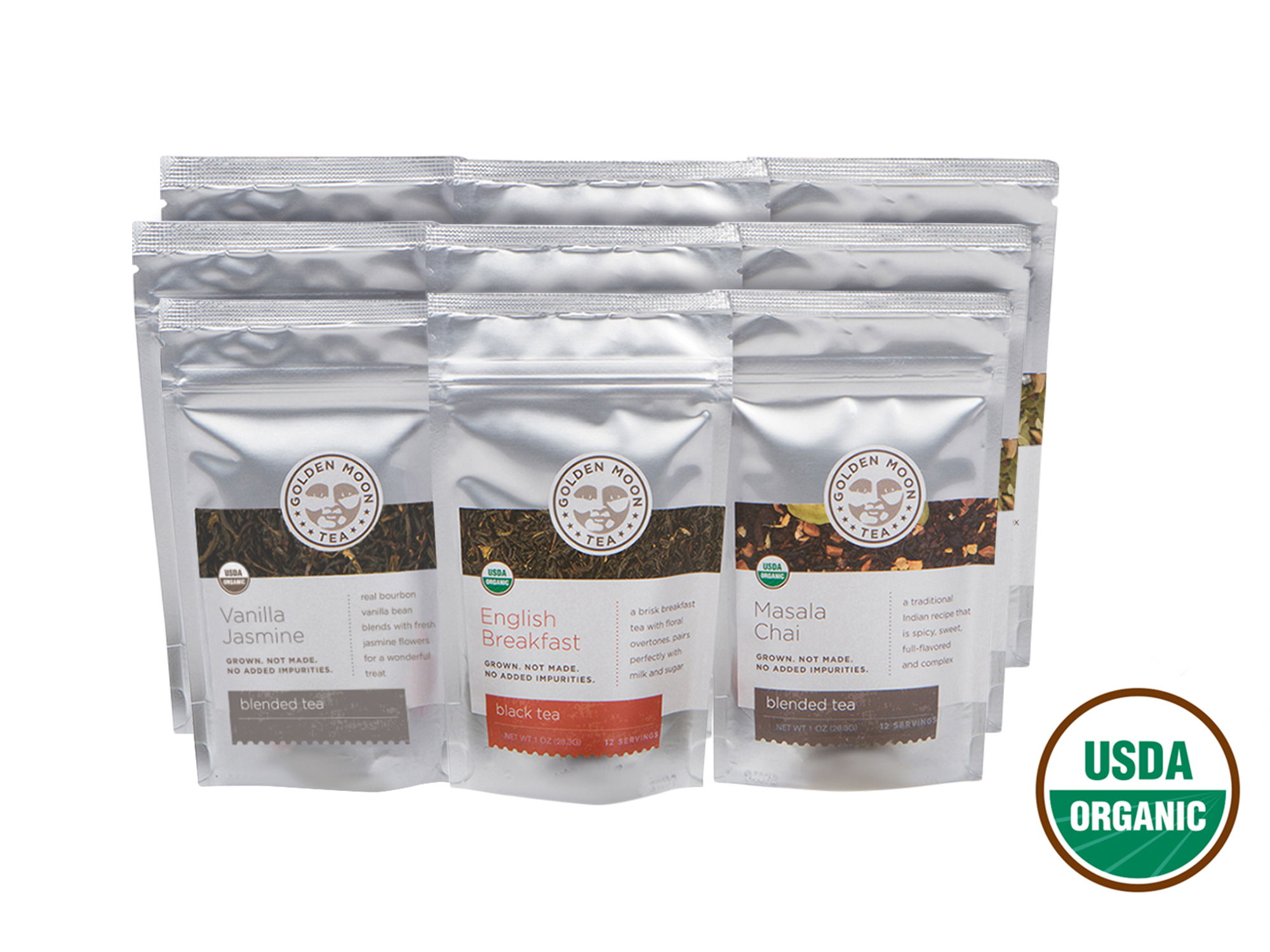 30% Off - 9 of Our Best Selling Teas!
TRY 108 CUPS OF TEA - PLUS TWO BONUS ACCESSORIES 
Not sure which teas to try? Now you can try nine of our best selling teas at 30% off. Included is our Rooibos, Masalai Chai, English Breakfast, Mint Medley, Vanilla Jasmine, Detox, Tippy Earl Grey, Sinharaja and Coconut Pouchong. All nine teas are authentic recipes that will make even the pickiest tea drinker proud. 
WHAT MAKES GOLDEN MOON TEA DIFFERENT?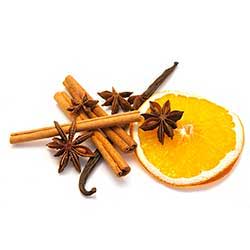 REAL INGREDIENTS
Our blends are flavored with organic, GMO free ingredients such as bourbon vanilla beans and real pieces of Italian bergamot. In the rare case we use an extract, it is always pure and 100% traceable back to the named ingredient.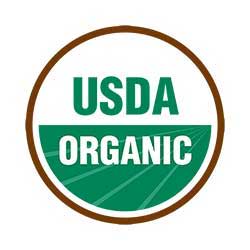 TOXIN FREE
We independently test for pesticides and other hidden toxins. When you drink Golden Moon Tea you know that every sip is pure tea without any hidden chemicals. 
NO PLASTIC RESIN
All teabags use plastic to ensure the paper or hemp doesn't dissolve. When you make tea this plasic releases chemicals. That's why we will no longer use any teabags whatsoever.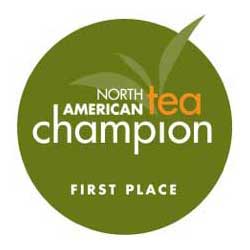 AWARD WINNING
Golden Moon Tea has 2 first place, and 6 total awards from the North American Tea Championship. Our commitment to providing the best tasting teas goes back to 1994 when the company was first founded.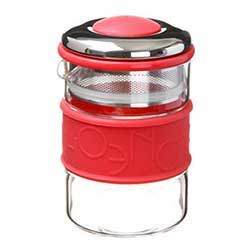 PURE TEAWARE
Many materials will release chemicals when they come into contact with boiling water. We have extensively searched for the purest materials that will never leach any chemicals into your tea and refuse to offer anything that may leak chemicals.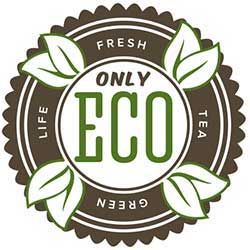 NO FLAVORINGS
Golden Moon Tea is the only loose tea company that refuses to use natural or artificial flavoring. All of our ingredients can be traced back to the farms they are grown on.
Masala Chai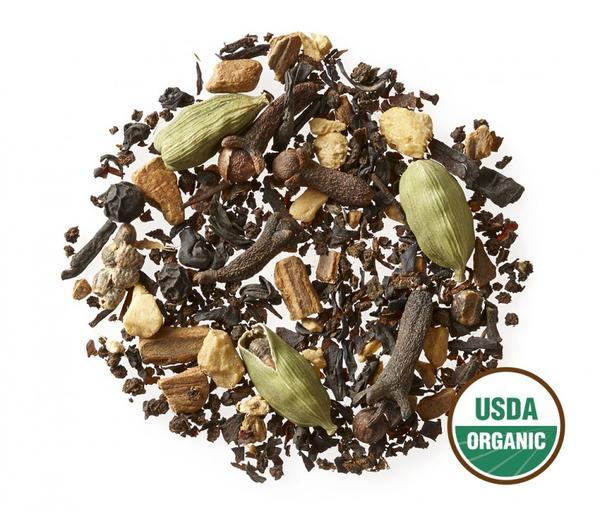 Real Chai is almost impossible to find here in the U.S. If you don't believe us take someone from India to any upscale coffee chain and order a Chai. We apologize in advance if you actually do this because they will not be happy. Real chai should use a strong black tea and real, fresh spices such as cardamom, cinnamon, cloves, and peppercorns. It should never, ever use any type of "natural flavorings" or any other shortcuts you would find in those premade boxes. Using the real stuff gives you a drink that is as delicious as you can find anywhere in India. And by everywhere I mean every single train station, bus station, café, street corner, and household. Once you taste a real chai you will understand why.
Ingredients
Organic Black Tea, Organic Cinnamon, Organic Ginger, Organic Cardamom Pods, Organic Clove Buds, Organic Pepper
Coconut Pouchong
Do you know what's better than sitting on a beach in Tahiti, popping a straw in a fresh coconut, and wasting the day away? Well, nothing actually. But with our Coconut Pouchong, you get that same fresh coconut taste. Not the artificial tasting Piña Colada mix found at your favorite beach bar. This tea combines the taste of real, buttery, and silky coconut with a light Pouching tea base. And, while it won't quite get you to Tahiti, it's the closest thing to it.
Ingredients
Grand Pouchong Tea Leaves, Real Coconut Extract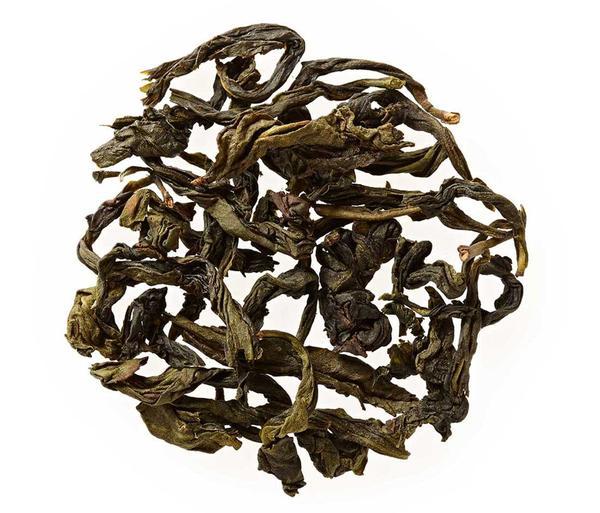 Rooibos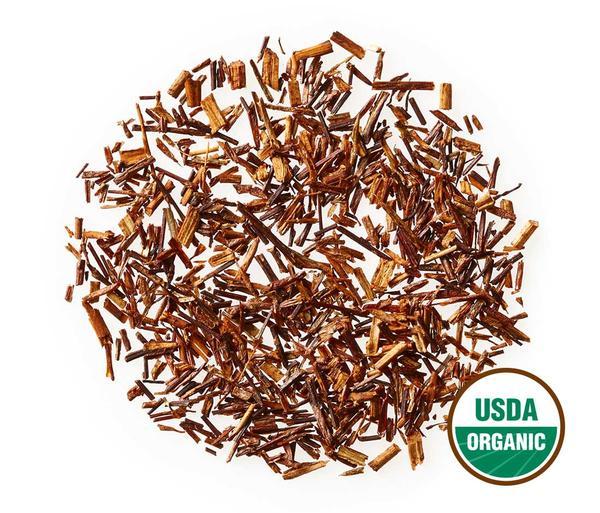 If you go to South Africa and order a "tea" you may be surprised what they serve you. It won't be a black tea, a green tea, or an oolong. But instead they love to drink Rooibos - or Red Tea. Once you take a sip you will see why. Rooibos is 100% caffeine free making it great to drink at any time of day. It is also high in antioxidants. So much so that it has been shown to have 50% more antioxidants than green tea. But most importantly, rooibos is delicious. It is a clean woodsy flavor with a smooth finish of rich caramel and black pepper. After drinking a cup of rooibos, you will see why South Africans love this tea so much.
Ingredients
Organic Rooibos Tea
English Breakfast 
There are few things that we love more than a nice, brisk cup of tea in the morning. The English even have a saying for it - a tea strong enough to "stand up a spoon." Especially when we have a full traditional breakfast of eggs, meat, toast, and other salty foods (like a true Brit would eat). This is why our friends on the other side of the pond love this tea. Strong enough to cut through the richness of breakfast, yet tasty enough to drink on its own.
Ingredients
Organic Black Tea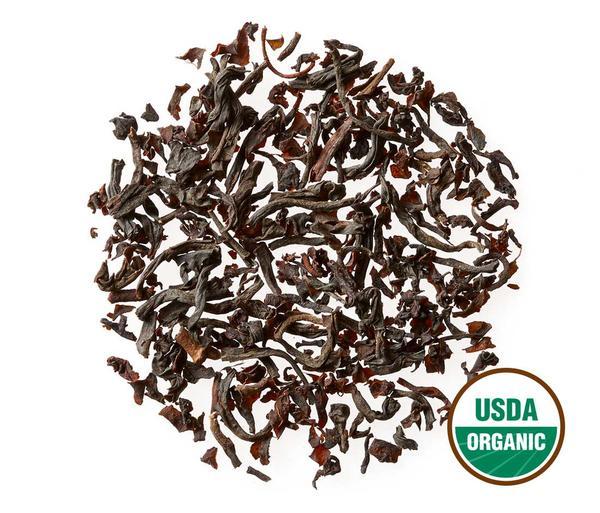 Mint Medley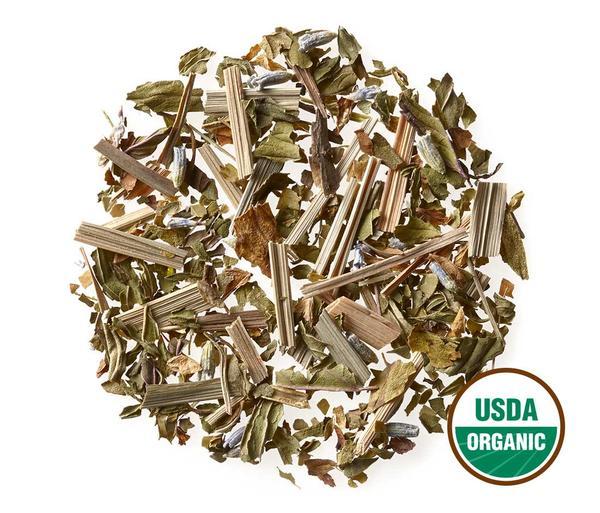 Work stressing, kids yelling, and Twitter, um, Twittering. With all of these things going on sometimes we get run down and need something to sooth our tired minds and bodies. Our Mint Medley helps even the most battered soul chill out. The combination of peppermint, spearmint, lemongrass, and lavender is high in antioxidants and is good for stressed out throats and stomachs. The taste is smooth without being overly sharp like many mint teas. And the lemongrass and lavender help to add a bit of brightness.
Ingredients
Organic Peppermint, Organic Spearmint, Organic Lemongrass, Organic Lavender
Sinharaja 
Our owner, Marcus Stout, drinks a lot of tea. He actually drinks so much that sometimes we think he may start sprouting leaves! And no matter what day it is, he always starts his morning with Sinharaja. This rich black tea is not only one of Marcus' favorites, but it was also named the #1 tea by the food critics at Gayot. Sinharaja has everything you want in a strong black tea. It is smooth, rich, complex, and can stand up to milk. In fact, that is how Marcus drinks this tea. With 2% milk and a dollop of honey.
Ingredients
Pure Black Tea Grown Bordering the Sinharaja Rainforest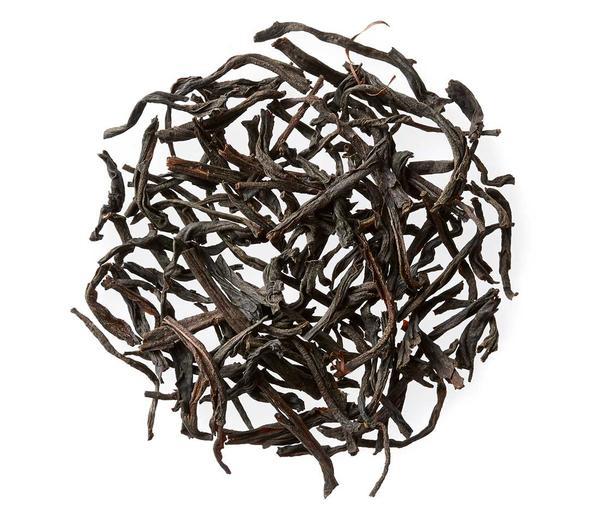 Detox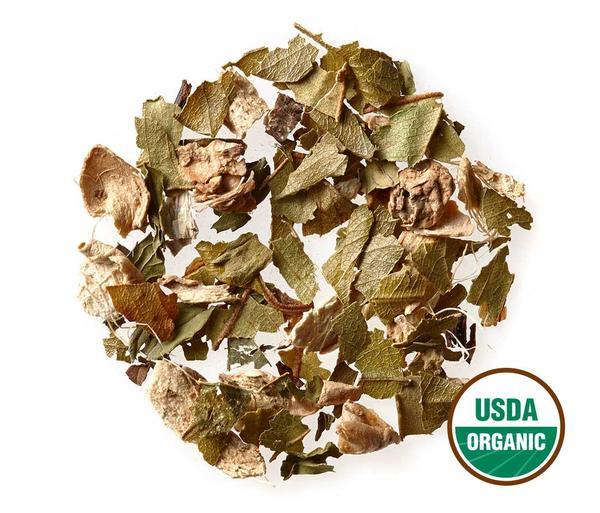 We are all guilty of it. Overeating, over drinking and often just a general sense of unhealthiness. In times like these, we need a little bit of a boost to get our bodies working as well as they can. That's why we developed Detox. Using six herbs that are shown to improve liver function and your digestive system, one of the biggest benefits to this blend is that it helps your body adapt to stress. While this tea is not a wonder drug, it can help give you that extra boost to get your body back in tip-top shape.
Ingredients
Organic Ginger, Organic Peppermint, Organic Honeybush, Organic Lemon Myrtle, Organic Tulsi, Organic Dandelion Root
Tippy Earl Grey
We decided to do the impossible and try and make an Earl Grey that would make even the pickiest Brit proud. Why is it impossible? Because Earl Grey drinkers tend to be a bit crazy about who makes the best version of this beloved tea. So, we decided to go back to the motherland and see how the best Earl Grey is made in London. 33 tea establishments later and we feel we have finally found a true Earl Grey. Our Tippy Earl Grey has a fresh bergamot flavor (because we use 100% bergamot extract) and a rich tea base made up of three distinct teas from across the world. We're confident that once you have the real stuff it will be hard to go back.
Ingredients
Organic Black Tea, Organic Bergamot Peel, Organic Bergamot Oil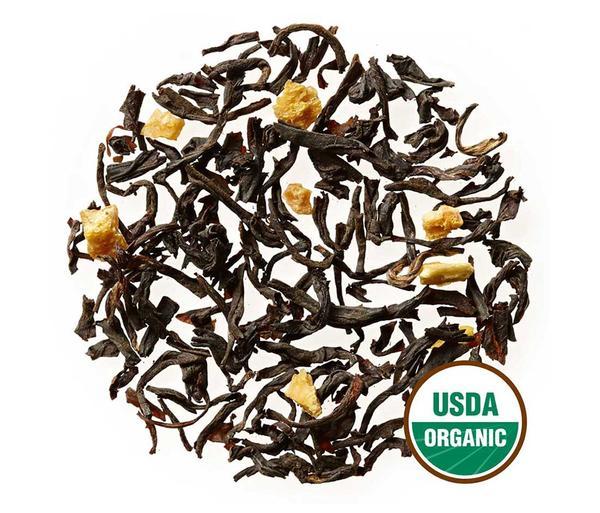 Vanilla Jasmine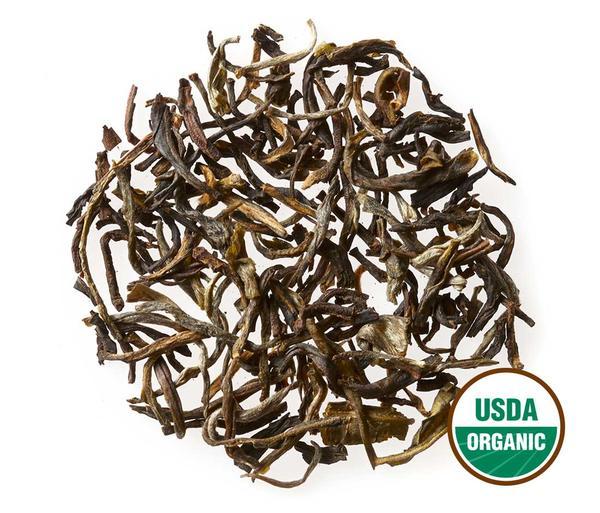 Refined single origin teas have their place, but sometimes you simply want to enjoy a nice cup of tea that is just plain comforting. While we found this comparison strange, many of our customers have said that this tea reminds them of a cream soda (but without the fizz and a lot less sweet). Maybe it is because the vanilla brings a fuzzy warmth to the zippy jasmine that gives us a uniquely flavored tea that just tastes good.
Ingredients
Organic Black Tea, Organic Jasmine Tea, Organic Bourbon Vanilla Bean
Our Customers Love Our Perfect Teaspoon and our ""Everything You Wanted to Know About Tea" Booklet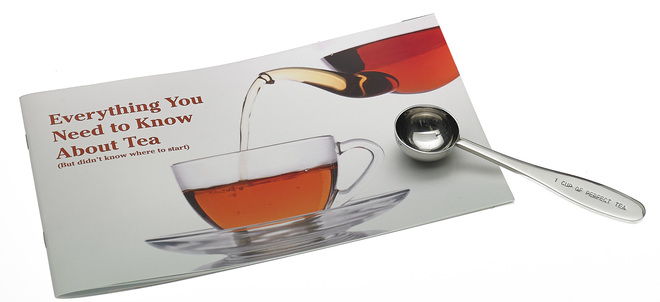 SEE WHAT A FEW CELEBRITIES THINK ABOUT US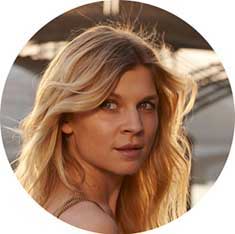 Clémence Poésy
French actress and fashion model
If friendship were a scent, it would be tea. I have this coconut green tea from Golden Moon, and whenever friends come to visit, they're always like, "Can we please have that tea?" It has the most amazing smell, so delicate that you barely notice the coconut in there.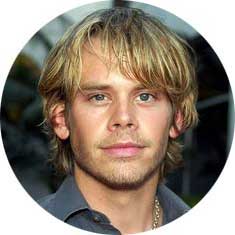 Eric Christian Olsen
Actor featured on NCIS: LA
I've traveled the world drinking great teas; from the mountains of Japan, the northern flatlands of China, to the southern tip of Argentina, and my favorite purveyor of amazing teas is Marcus at Golden Moon Tea. He's also the only guy that's gone back to the source on every tea he provides to insure that I'm not poisoning my body or my family with any chemicals, pesticides, toxins, GMO's, or manipulation during the process. 
Golden Moon Tea is also a great example of the rise of small responsible businesses as passionate owners like Marcus reject the industrialization of the food industry and provide us with better options embedded with social, environmental, and ethical integrity. 
It's all we drink at our house. 
WHY LOOSE LEAF TEA?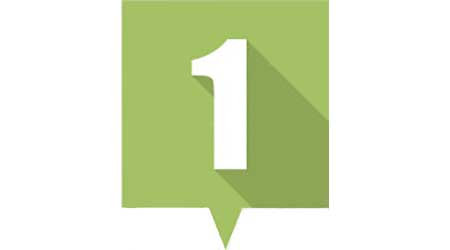 BETTER FLAVOR
When tea leaves are left in their full, natural form, they do not dry out. Since the leaves do not dry out, they hold onto their essential oils and give the tea more flavor and aroma when brewed.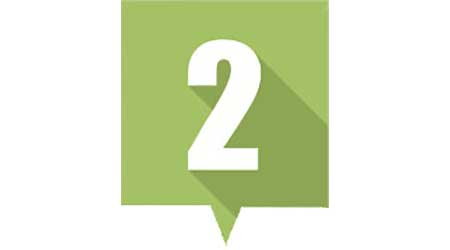 LESS EXPENSIVE
Instead of paying for the teabag packaging, why not just pay for the tea? Our loose teas cost as little as 11 cents per cup, which is cheaper than almost all major grocery store brands.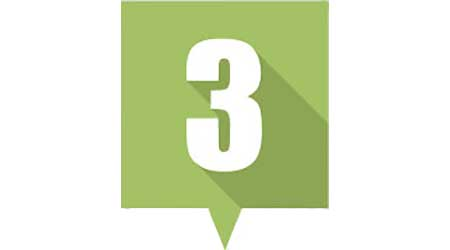 ECO FRIENDLY 
Our loose tea is eco friendly and is made 100% from plants. This means no strings, tags, or bags to harm the environment.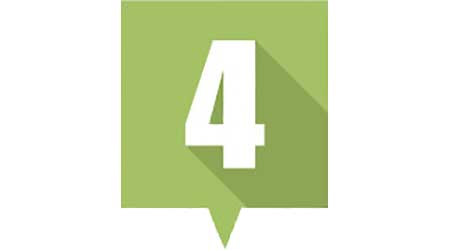 MULTIPLE STEEPS
Don't use your tea once and throw it out. Loose teas can be steeped (soaked in water) numerous times, which increases the flavor and reduces the price.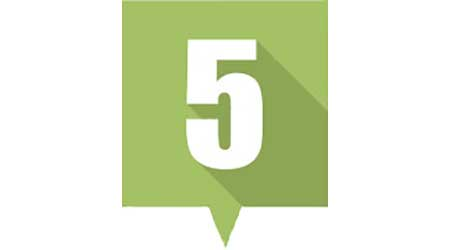 EASY TO MAKE
All you need to make a great cup of  loose tea is a teapot. We offer many different pots with infusers that allow you to make a great cup of tea quickly. Just put some loose tea in a pot, add hot water, and strain. It's as easy as that.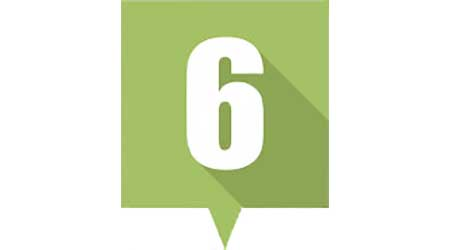 HIGHER QUALITY
The tea used in most bags consist of the dust and fannings left over from broken tea leaves resulting in a weaker, less flavorful cup of tea . Golden Moon Tea only uses large tea leaves that are produced in the orthodox method giving you a superior cup of tea.
OUR BEST SELLERS
TESTIMONIALS FROM REAL CUSTOMERS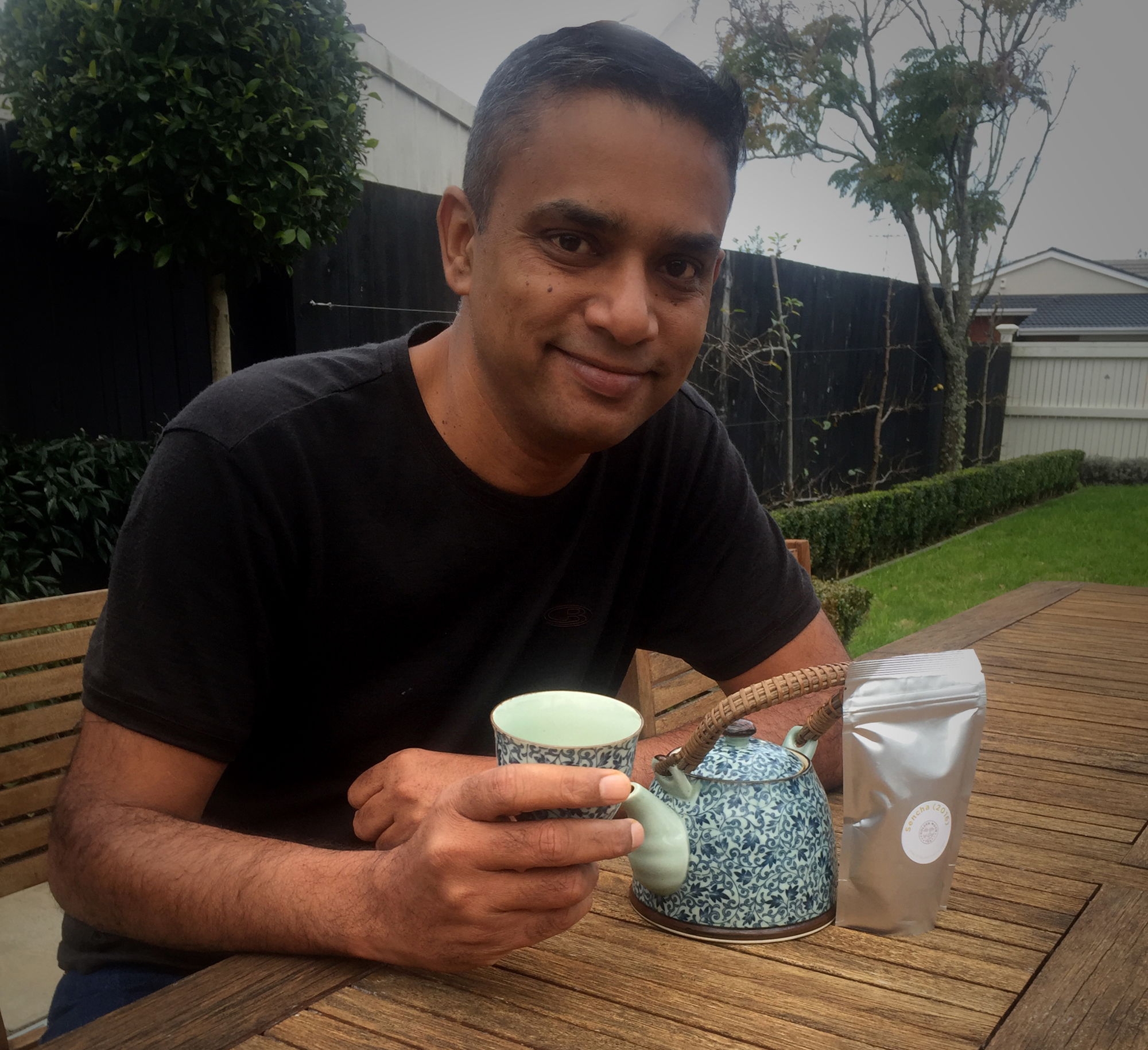 Sean - Auckland, NZ
Before I ran into Golden Moon Tea, I wasn't even a tea guy — I drank coffee. But ever since I've been exposed to this tea, I buy it exclusively from Golden Moon Tea. To give you an idea of how much trouble this whole exercise happens to be: I live in New Zealand, which means the tea has to be shipped at a much higher expense.
The reason why I continue to choose Marcus' tea is because I know he's fussy about the quality as well as where the tea comes from. To have great tasting tea and to know there are no chemicals or impurities makes my tea drinking experience something to look forward to, every single day.
I wish other companies went through the same trouble as Golden Moon Tea.
Karen - Williamsport, PA
If there is such a thing as "love at first sip," I have it with Golden Moon Tea's Coconut Pouchong!
Wow, the second the aroma hits my nose and the clean refreshing taste hits my tongue, I feel like I'm in Heaven. The pouchong is smooth and full of buttery goodness and the coconut is authentic and delicious. The two flavors meld together perfectly, so much so that I brew this tea daily!
I love Golden Moon Tea's attention to detail and strong policy of using only the highest quality, pure loose leaf tea. I trust that Marcus is providing the very best with his products, which reinforces my decision to only ever order from Golden Moon Tea!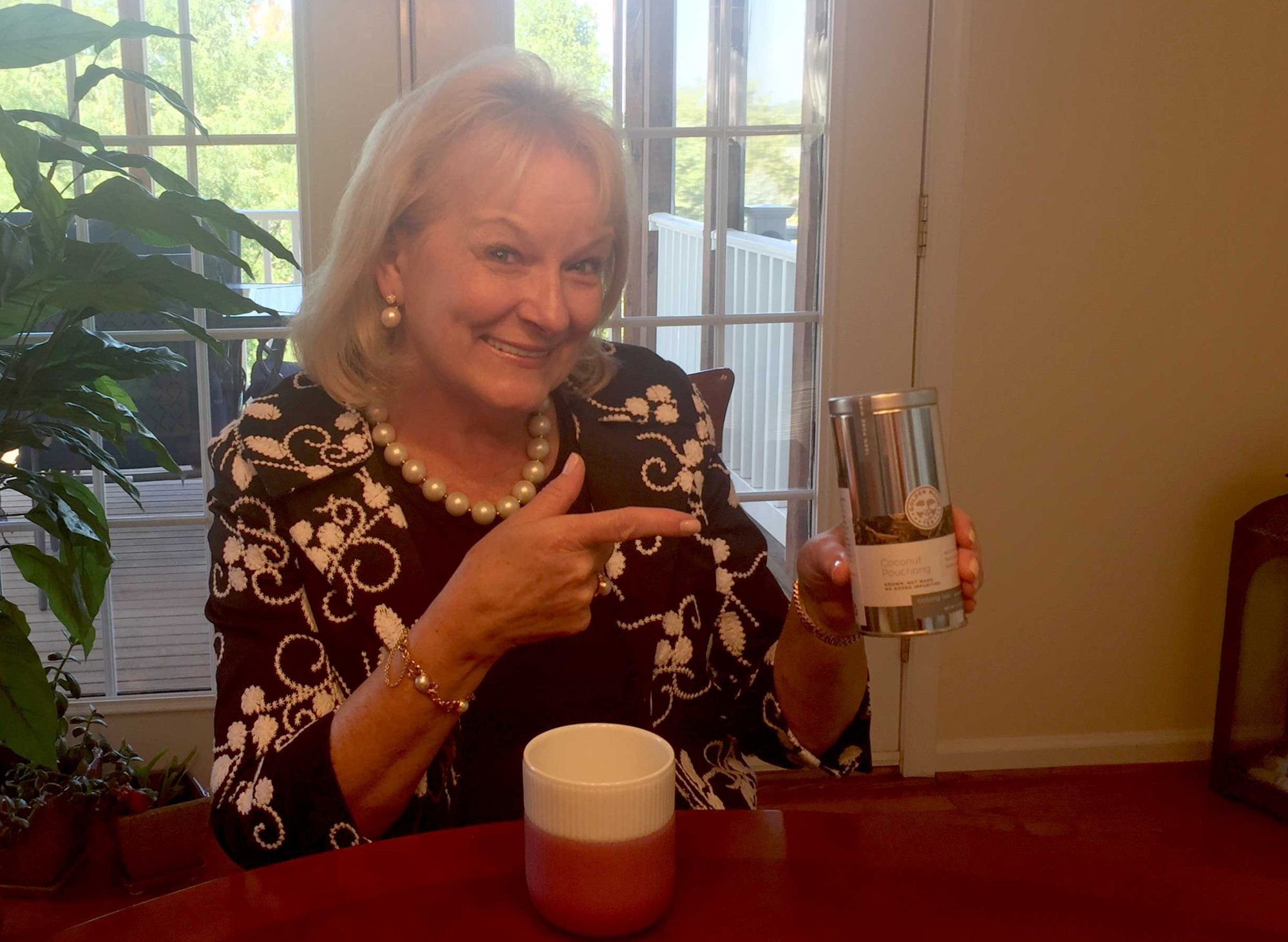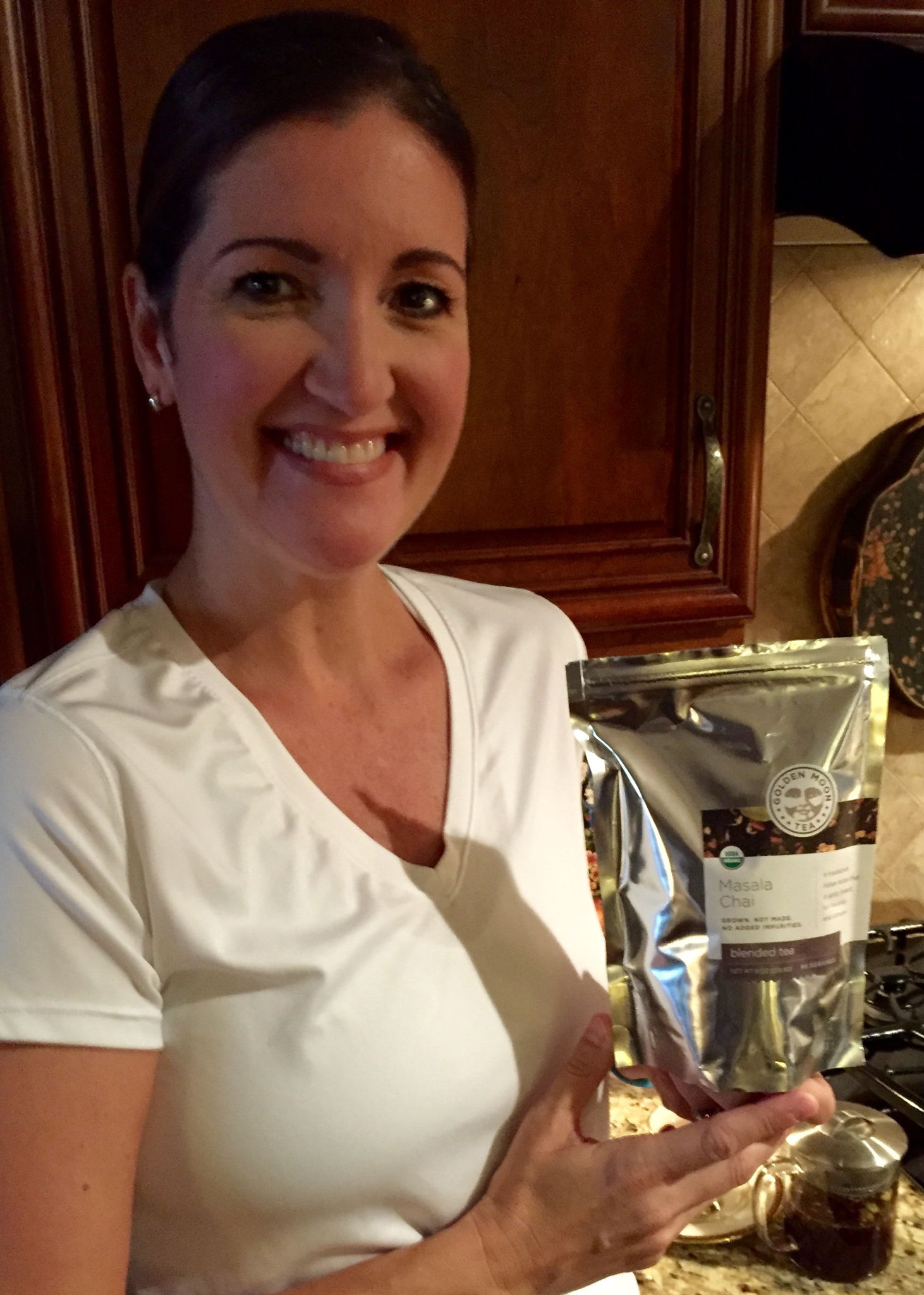 Lori - Ashburn, VA
When I opened my bag of Golden Moon Tea's Masala Chai, I immediately noticed the sweet and spicy smell of clove, cinnamon, and cardamom. It was so warm and inviting that I couldn't wait to taste it! Once I did, I knew I was never going back to my usual Chai.
I consider myself somewhat of a Chai connoisseur and thought that I had already found the perfect one. Boy, was I wrong! Not only does Golden Moon's Chai have a rich aroma, but the flavor is a perfect blend of pure ingredients that dance in your mouth and delight your palate.
TRY US RISK FREE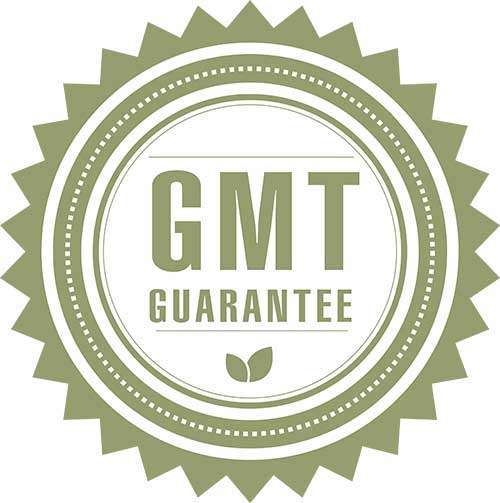 The Best Guarantee in the Business
No matter how many pictures, reviews, and descriptions you look at, we know how difficult it is to really know if a tea is going to be tasty. With our "Pay It Forward" guarantee you no longer have to worry! If, for any reason, you decide that you do not like any of our teas, we will refund 100% of your money and you don't even have to return the loose tea. This means no shipping labels, trips to the post office, and no risk in buying our teas!
However, there is a catch. We only request that you give the loose tea to another friend or tea drinker. We feel that even though you may not like a tea, there is a good chance that someone you know will. This way you not only get your money back, but you can also brighten someone else's day with delicious loose tea!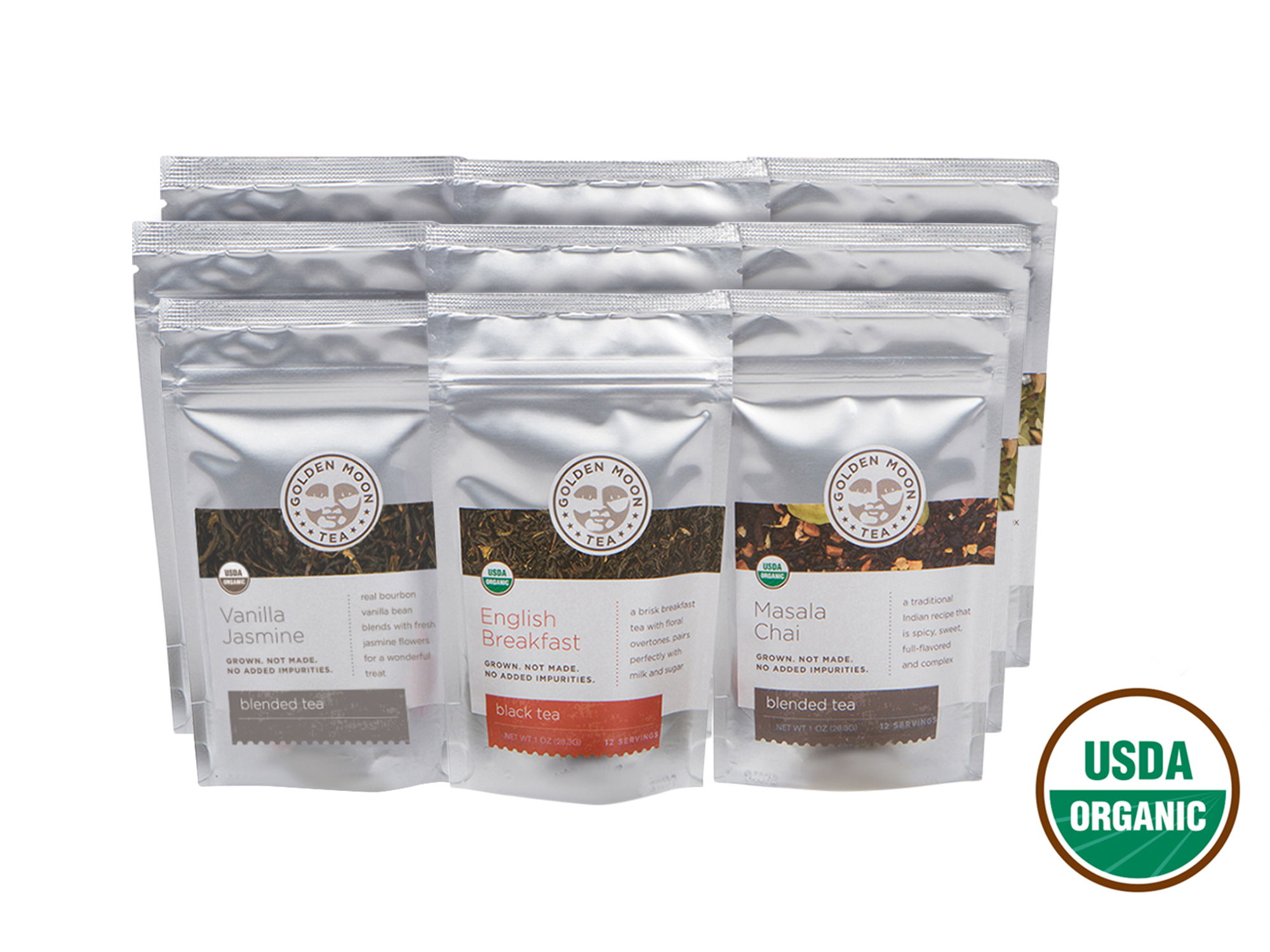 30% Off - 9 of Our Best Selling Teas!
TRY 108 CUPS OF TEA - PLUS TWO BONUS ACCESSORIES
Not sure which teas to try? Now you can try nine of our best selling teas at 30% off. Included is our Rooibos, Masalai Chai, English Breakfast, Mint Medley, Vanilla Jasmine, Detox, Tippy Earl Grey, Sinharaja and Coconut Pouchong. All nine teas are authentic recipes that will make even the pickiest tea drinker proud. 
Loose Tea Serving Size Guide
Here is a quick guide to how many cups of brewed tea each of our serving sizes makes.
1oz Bulk - 12 cups of brewed tea
1/2lb - 91 cups of brewed tea
1lb - 182 cups of brewed tea
If you would like to know more about how we came up with these calculations plus how to figure out cost per serving check out this article.