---
Enjoy the only tea with no pesticides, no GMOs, no chemically treated teabags and no "natural" or artificial flavors.
Darjeeling
$3.99
This particular Darjeeling is known as an Autumnal Darjeeling from the famous Makaibari Tea Farm. The owners actually live on the farm and provide for over 600 families. In 1971, Makaibari decided to move to a "beyond organic" approach that believes the sum is greater than the parts. This...
---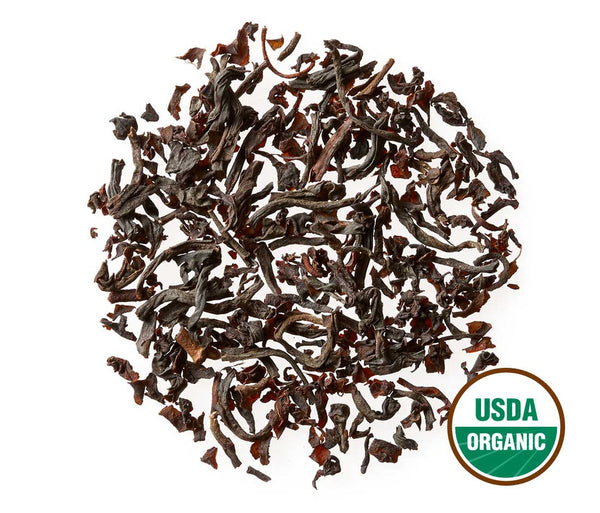 English Breakfast Tea
$4.29
This blend starts with three distinct Indian teas. First, we chose an Assam tea that borders the Brahmaputra River. This particular farm is especially affected by the monsoon season where the temperature rises to over 100 degrees, which creates a greenhouse effect that brings out the famous malty, full-bodied...
---
Irish Breakfast
$3.99
Like most authentic Irish Breakfast teas, ours is 100% Assam. In fact, we chose two of the most esteemed tea farms in the region. The first is the small, family run Tonganagaon Tea Estate, which is found in the Eastern Assam Valley right next to the Namdapha National Reserve....
---
Masala Chai
$3.75
One of the keys to a good Masala Chai is to have a strong tea base. That is why we chose a small cut leaf from the Doomni Farm in the Baksa District of Assam, India. This particular Assam is grown along the Brahmaputra River and has a pronounced,...
---
Loose Tea Serving Size Guide
Here is a quick guide to how many cups of brewed tea each of our serving sizes makes.
1oz Bulk - 12 cups of brewed tea
1/2lb - 91 cups of brewed tea
1lb - 182 cups of brewed tea
If you would like to know more about how we came up with these calculations plus how to figure out cost per serving check out this article.