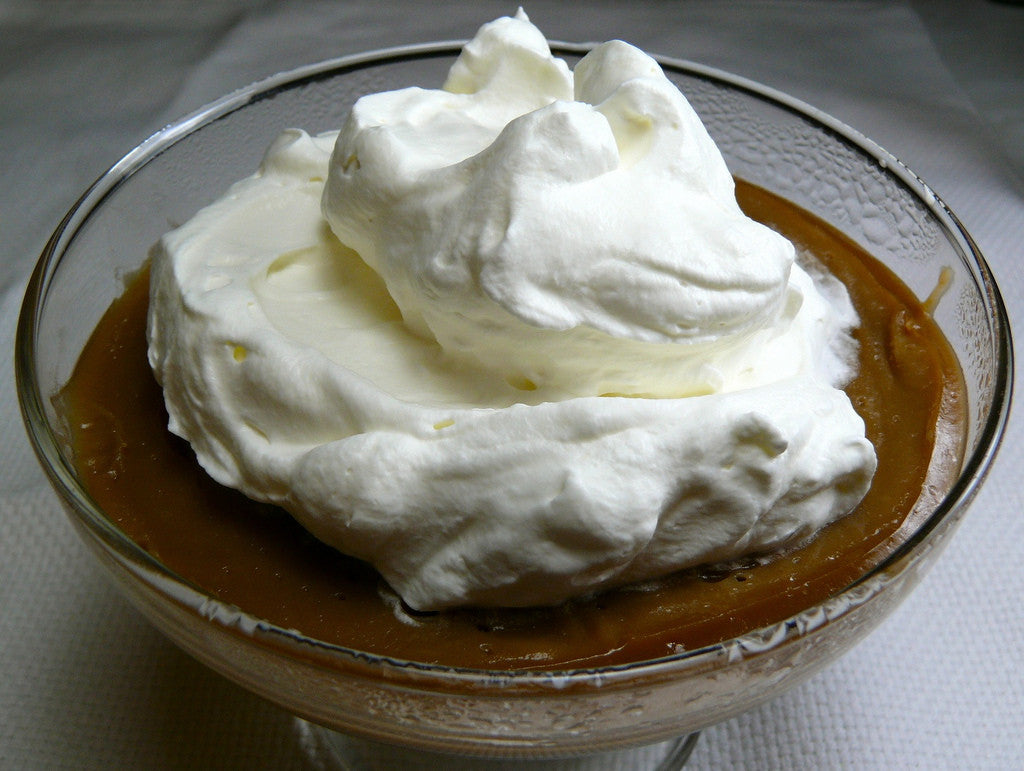 "I can't do it anymore!" I complained to my wife last week.
After spending the last two months avoiding all desserts, my New Year's Resolution, I finally fell off the wagon. I didn't just want something sweet and delicious, I needed something sweet and delicious.
Instead of buying a bunch of stuff loaded with preservatives and ingredients I couldn't control, I decided to make a batch of something rich and creamy. I made some homemade caramel pudding.
Pudding is something everyone should know how to make
If you like pudding in the slightest bit, you need to make it at home. The difference is like comparing a fast food apple pie to a crusty, flakey pie made by Grandma.
And the best thing about this recipe is it uses no egg yolks, cream, butter or custard. This means that around May when it is time to get back into that swimsuit, we will all have a little less jiggle in our bellies.
Warning: Homemade caramel is so easy you will become addicted
Once you figure out that the simple process of melting and toasting sugar is so much better than regular old sugar, you may never want to go back.
This pudding isn't so much sweet, but it has delicious burnt sugar and toffee notes that will cure any sweet tooth craving. And with only five ingredients, it can be whipped up with a bunch of basic pantry ingredients most people have laying around.
Ingredients: 
4 cups whole milk (or 2%)

6 tablespoons cornstarch

2 teaspoons pure vanilla extract

¼ teaspoon salt

1 cup sugar

 
Instructions: 
Wisk together the cornstarch, vanilla, salt and ½ cup of the milk until smooth

In a large, non-stick saucepan, combine the sugar with 6 tablespoons of water and bring to a boil.

Cook over high heat until a deep brown/amber caramel forms, about 8 minutes. Be careful to watch the pot carefully because caramel turns from light brown to burnt very quickly.

Remove from heat

Very slowly whisk in the rest of the milk. The caramel should look very dark at this time.

Return to the stove on medium heat

Keep whisking, just to the point where the milk starts to foam up

Turn the heat to low and let simmer until the caramel thickens slightly and deepens in color (about 10 minutes)

Add the cornstarch into the caramel and cook for about 1 minute

Scrape the mixture into eight ½ cup ramekins and refrigerate for a minimum of 2 hours

To avoid pudding skin, place a piece of plastic wrap on to the surface of each ramekin as it cools

 
Summary
With a little bit of work, you can have a wonderfully delicious, rich and creamy dessert that won't bust your waistband. It will also prevent you from going crazy on those New Year's Resolutions like it did for me.
Photo:
www.flickr.com/photos/skywhisperer/4542888114/
Recipe adapted from:
www.smittenkitchen.com
Leave a comment
Comments will be approved before showing up.