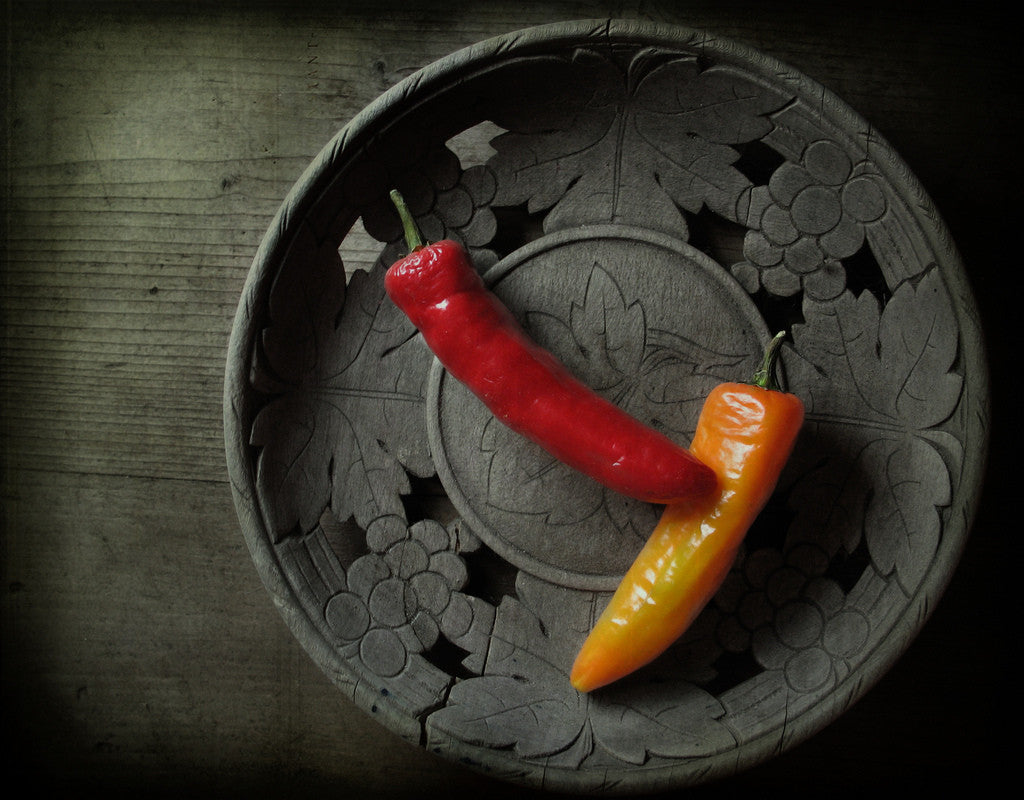 Chili was one of the first things I ever cooked. My Dad and I would go to the store and buy our favorite Chili mix at the time. We would spend the next few hours standing over the bubbling cauldron adding spices until it came out with the perfect flavor. The funny thing is I figured out my Dad's secret to chili at a young age. He would just keep adding copious amounts of garlic powder and hot peppers until it tasted so garlicky and spicy that we would literally sweat while we were eating it. Since then I have learned a bit about what makes a proper chili and I assure you it is more than just garlic and hot peppers. Real chili should have a depth of flavor that is layered and complex. Now I have a new secret to making chili and it involves using the wonderful Indian spices of Chai. I tend to like a traditional Texas Chili when the weather gets nicer because it is wonderful to make ahead of time and serve along side burgers during a good ol' fashioned BBQ. But first let's look at what it means when someone says "Texas Chili."
What is Texas Chili?
Texas Chili has five crucial ingredients – meat, chili powder, onion, cumin and garlic. Tomatoes and beans are strictly forbidden.  The reason why so many Texans get upset about the addition of tomato and beans is because those ingredients were not available when chili was invented. Chili was created by real life Cowboys while they were on the trail. Since space was at a premium, cowboys were usually limited to carrying only dried goods to use as seasoning.
Why I added Chai
It may seem weird to add Chai to a traditional Texas Chili. I am not going to lie to you, it is a bit unconventional and there will be some people that call shenanigans. However, my justification is this, Chai Tea is a dried good, which has flavors that mix well with Chili and, even better, tea can last for years meaning it is ideal for long trips without refrigeration. Most importantly, I love tea so I think it should go with everything. Doesn't that count for something?
Ingredients 
4 pounds of chuck roast, cut into 1/4 inch cubes

1 large onion diced

6 cloves of garlic, crushed

3 cup of brewed Chai
 (I like my Golden Moon's Kashmiri Chai)

2 bottles of beer

6 tablespoons Gebhardt's chili powder

1/2 tsp cayenne

1 tablespoon cumin

1/4 cup masa harina (A Mexican flour that helps to thicken the chili. If you can't find any you can use flour)

2 chipotles in adobo (optional) 
Steps
Open the first beer and take a big swig. This beer has nothing to do with the chili, but how can you make chili without drinking beer?

Brown the meat in a large pot. Be sure to do it in 2 or 3 batches or the meat will boil instead of sear

Take the meat out of the pot and add the onions. Cook until they turn clear

Add in the garlic and cook for a minute. Be sure it does not turn dark brown.

Add the Chai, beer, chili powder, cayenne and cumin to the pot. If you like it spicy add in the chipotles. Be careful though they pack a punch.

Simmer for 2 hours.

Scoop out 1 cup of broth and add the masa harina. Mix it well and then reincorporate it back into the pot. Stir until chili is thickened. This is a Mexican flour that helps to thicken the chili. If you can't find any you can use flour. 
To Sum it up
The best part of chili is the time and love that goes into every pot. Since it is so easy to make almost everyone has a secret or two that makes the recipe unique. No matter if it is half a bottle of garlic powder or adding Chai, be sure to add a few unique twists to this recipe all your own.  
photo: www.flickr.com/photos/hills_alive/5678968814
Leave a comment
Comments will be approved before showing up.